Member of Music HyperBanner

---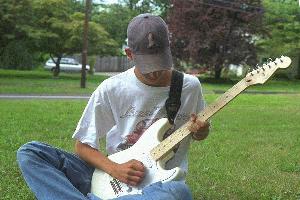 (No, he wouldn't take his hat off or look up)
---
Adam (Kossy) posesses a very enjoyable blues background to the band. He has a style that mimics Stevie Ray Vaughn and this shows in his solos.
Hobbies Interests:


Aside from the band, Adam likes to play golf, and is a member of New Jersey All-State Chorus. His main interest in music resides in blues, and his guitar style greatly resembles that. Adam has been playing guitar since January 1995.He plays his white Strat for two distinct reasons: Exceptional tone, and in memory of the late Jimi Hendrix, world renoun rock and blues guitarist. Jimi had a very calm personality, but let his inner excitement take over during performances.

Anything else:


Adam's favorite piece of music is Stairway to Heaven, which he can perform in his sleep. Adam dedicates his stage performances to his family, friends, bands members, God, and LH ; ) .

---
Send e-mail to Kossy
---

Main Page | News | Bios | Info | Tees | Shows | Reflections
Guestbook | Contact D.I. | Links | Pictures